Our Quora Question of the week comes from Yoel Doron, Owner at Doron Media.
Yoel asked, "Any tips on how to use Quora to build my brand?"
Let's get into it!
Quora is a unique social platform because it allows for extensive discourse without a sense of hierarchy. On Quora, you gain a following not necessarily because you are a big time CEO or celebrity, but you have wisdom that brings value to the community, and you don't mind interacting with the public.
Here are 3 easy & free ways to build your brand on Quora:
1. Answer questions where your expertise brings value.
2. Look for topics that people are talking about.
3. Leverage existing content from your blog, products, services, etc.
1. Answer questions where your expertise brings value.
Questions on Quora can get anywhere from 1 to over 10,000 answers. While many people who answer questions may be knowledgeable in that specific field, there are others who are not, and just answer with a brief (and sometimes not even truthful) comment.
However, if you scroll through different questions on Quora, you'll find that the answers with the most views and upvotes are individuals who have a professional title that demonstrates their experience in that area.
When we do research for a project, how do we choose our sources? We look for content that is reputable. We make sure the author is credible, read the "About Page", & check the URL domain. It's no different with Quora: When people are looking at the answers to a specific question, they look for people to trust.
That's why the most important way to build a brand on Quora is answering questions where your expertise (or your company's) brings the most value. You have to demonstrate that you are a leader in this field.
Once Quora users recognize truthful, helpful, and valuable content, it will help put your name on the map – in a positive light. People will start following you and begin to get notifications whenever you answer or ask a question.
Look at Brock Blake for example. He's the CEO of the money lending company, Lendio, and deals with loans on a consistent basis.


Because of this, it makes sense that he answers questions about loans on Quora because that's where he brings the most value. You can see an example of Brock optimizing his brand through Quora with the question he strategically answered below.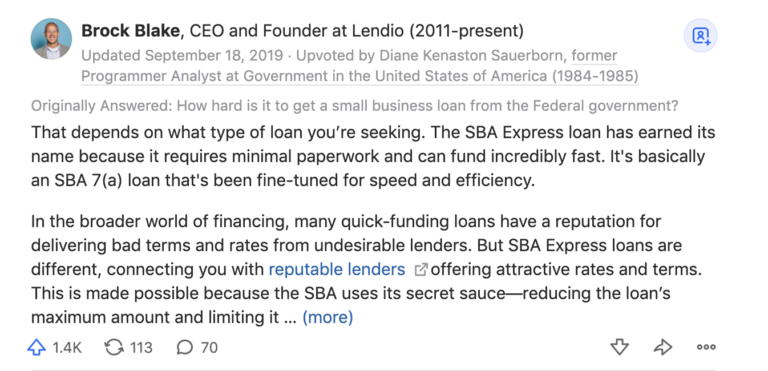 2. Look for topics that people are talking about
While taking the time to ask and answer questions, you discover new pain points of your audience that you hadn't thought about before. Recognizing what users in your space are asking about, you start getting inspired to create new content ideas. Additionally, by answering a question that is popular, yet doesn't have many answers, bringing your value to that question can result in astronomical views. However, it's not always easy to discover the topic that everyone is seeking an answer for: A great resource to assist your question mining efforts is Answerthepublic.com. Since a space that I bring value towards is content marketing, I'm going to simply type in "content marketing" in the Answerthepublic.com search box (as seen below).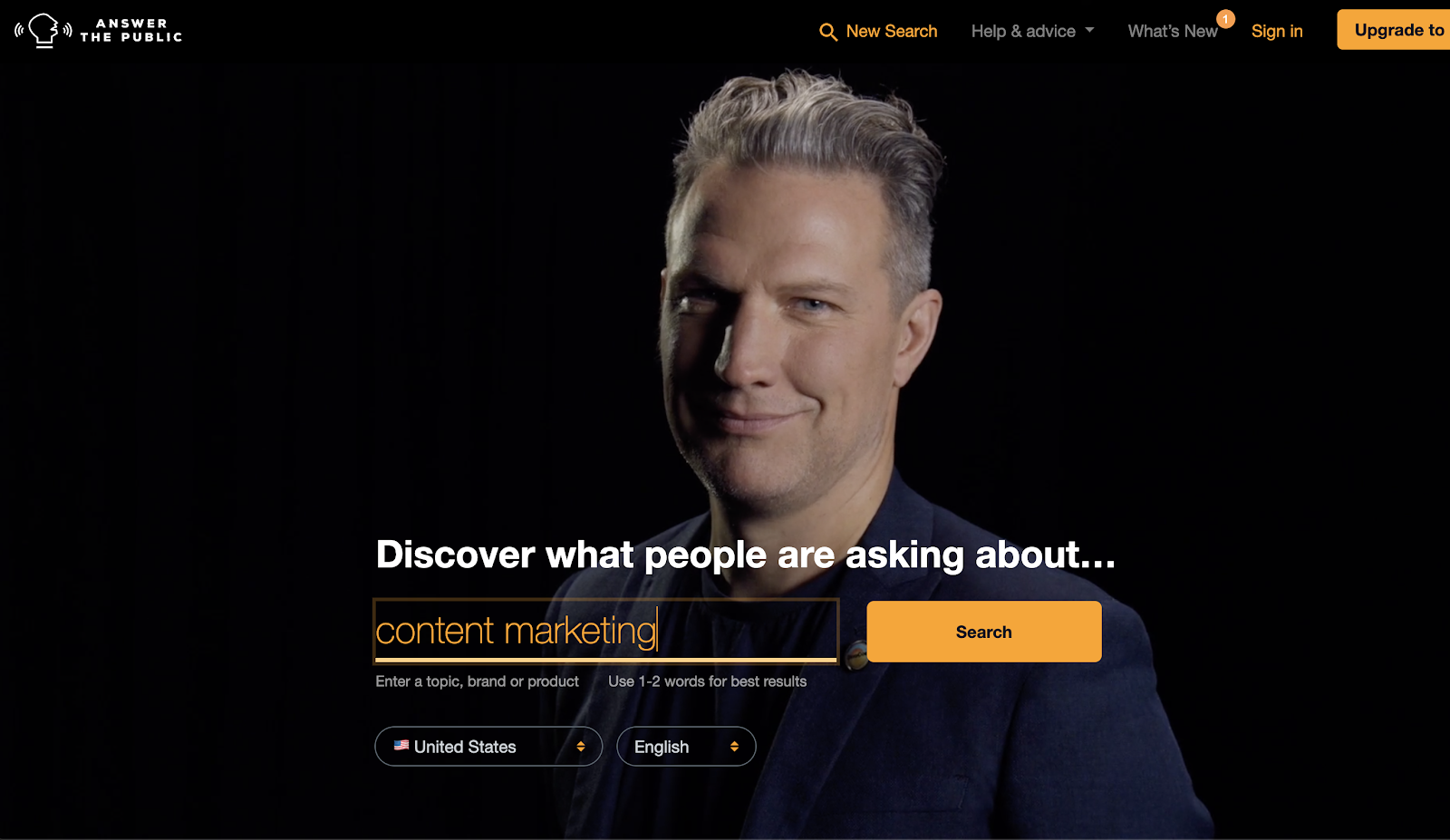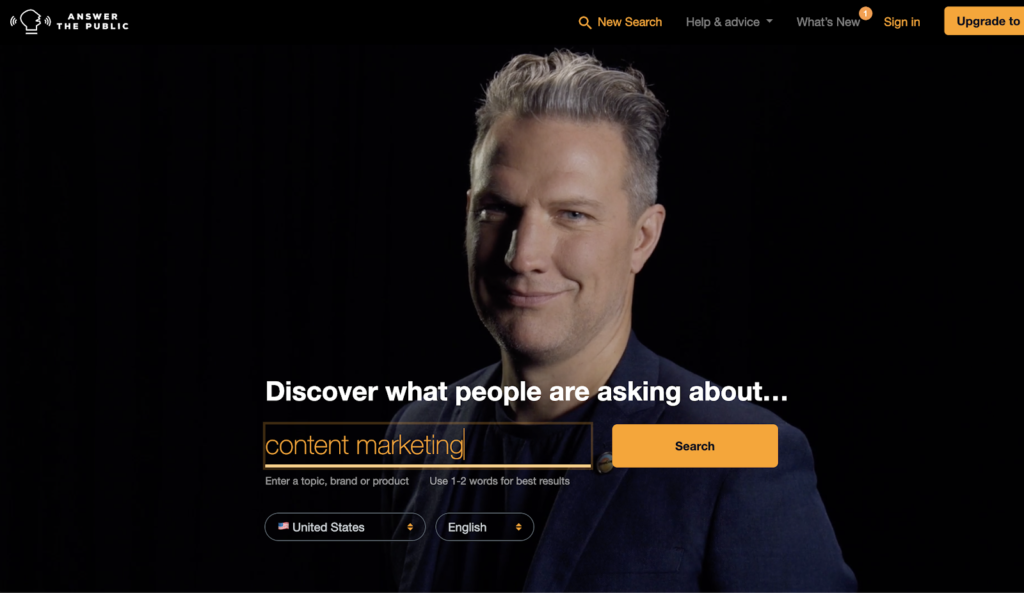 Once I hit enter, their algorithm instantly conducts thousands of searches to produce a list of the top questions people have about content marketing. You probably have to zoom in to see the questions individually.
Out of that large list – here are a couple questions about content marketing that I'm going to look for on Quora:
        1. Which content marketing strategies are best?
        2. When did content marketing become popular?
        3. How can content marketing help a business?
        4. What are content marketing tools?
Once I understand what my market wants answered – I recognize the areas that are worth devoting more of my time towards. I could spend equal time answering questions that don't relate to my brand, but that tarnishes my brand.
It's better to jumpstart your brand substantially in one field, than a little bit in multiple fields.
Let's take a look back at Brock Blake, founder of Lendio, which is "the largest business lending marketplace in the U.S." 
If you take a look back at the last four questions that Brock answered, you'll see that they all revolve around entrepreneurship (he started his own business), and also about loans (which his company revolves around).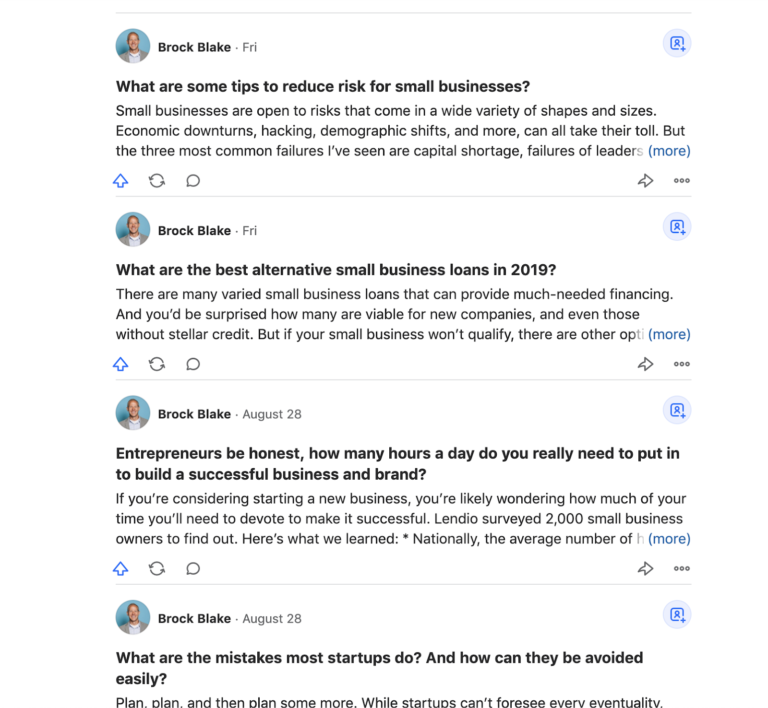 Brock understands what his target audience is asking about, and brings his professional value directly to them. You can't get better brand building than that.
3. Leverage existing content from your blog, products, services, etc.
The saying, "Work smart, not hard," is especially important on Quora. There might be an in-depth answer with over 2,000 words but that gets almost no views because it has no pictures, headers, bolded words, or other utilities to encourage a more enjoyable reading experience. Leveraging existing content that has brought you positive ROI in the past is a great way to enhance your answers and brand recognition on Quora.  Whether it was a past blog post, a case study, user testimonials, or even CTA's to a product, it's important to give your answers some variety.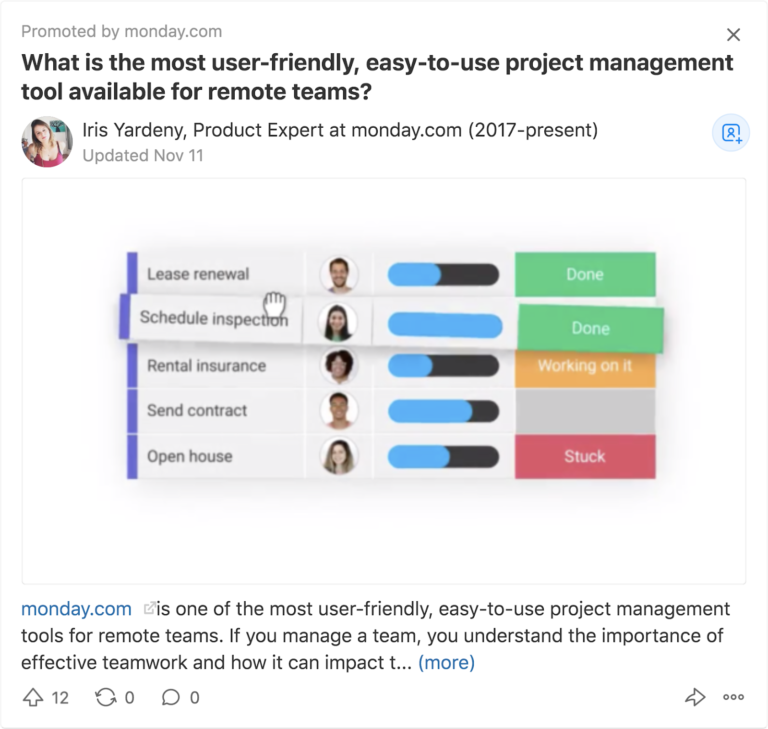 And if you already created awesome content on your blog, why not refurbish some existing resources? Take content that has already shown success and find relevant questions to answer. 
However, don't copy and paste the content word for word. If a Quora user organically visits your blog because she enjoyed the answer you shared, it's a sign of laziness to see the same exact content on a different medium.  To combat this, curate your Quora content in a way that feels unique – maybe bringing new examples or insights.
Do you need more assistance in your branding efforts on Quora? 
Feel free to contact the Q-Answers team for a free Quora marketing research report on how we'll optimize your company's presence on Quora.