One of the biggest issues businesses face is continuously attracting the right people but what if you could build an asset that's going to work for you daily to attract the right people?
What if you could set it once and for the most part, forget about it?
If that's something you are interested in, you are going to love what we are about to share with you.
Keep reading.
Why You Should Use Quora for B2B Marketing
What makes Quora unique is why people come to the platform. 300+ million people visit Quora every month to ask questions and read insightful answers. This includes people looking for reliable information about your company, products, competitors, and industry.
Quora has a greater concentration of P18+ users with a HHI > $100K than other publishers such as WSJ, LinkedIn, HuffPost, and Reddit.
Quora's audience is educated and engaged, according to a Quora report, 65% reported having a college degree and 28% reported having a graduate degree.
Quora users spend 15+ minutes per day on the App.
The user age distribution on Quora is as follows:
20% of users are between the ages of 18 – 24
31% of users are between the ages of 25 – 34
13% of users are between the ages of 45 – 54
10% of users are between the ages of 55 – 64
And 5% of users are 65 and over.
As you can see, Quora is a great platform for reaching a millennial audience.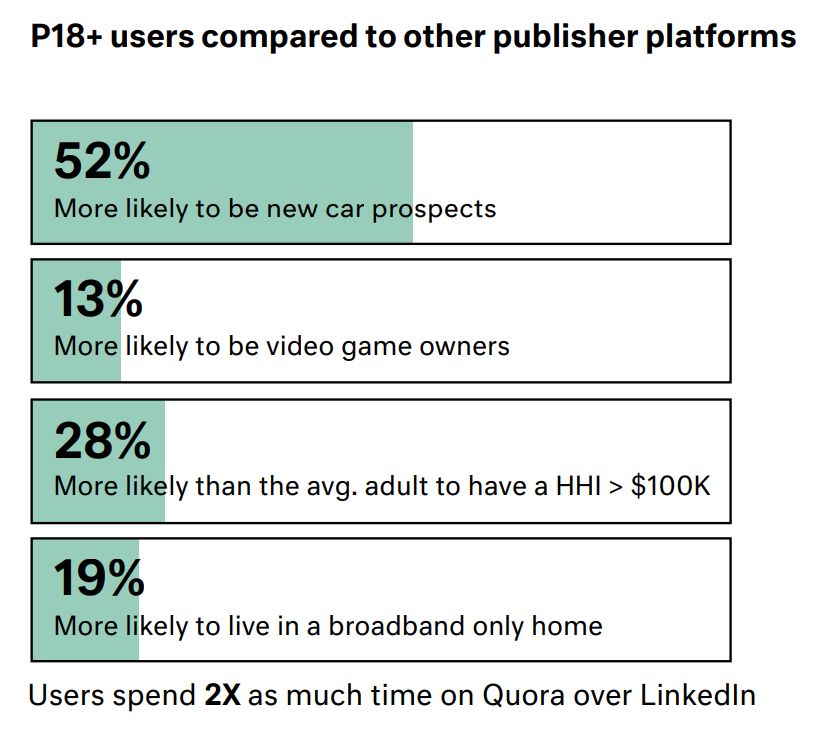 How to Use Quora for B2B Marketing
B2B marketing on Quora is quite different from B2C, some things to consider include the type of account you'll use, the information you provide on your profile, the questions you'll answer, and how you go about tracking success on the platform.
1. Set Up a Business Profile
Business profiles are ideal for businesses that want to write as their brand on Quora. Unlike user profiles, Business Profiles can post answers on Quora under a company name. Business profiles are great for businesses using Promoted Answers for Quora Ads.
Some of
the benefits of setting up a business profile
include:
Can be managed by multiple people

Are permitted to use the name of a business for the profile and when participating in conversations on Quora

Will be designated as a business with a business icon on the profile image

Can define and display industry topics that the business is involved in on the profile page

Can define a location for the business visible on the profile page

You can use UTM tracking to track specific data

You can include a call to action at the end of the answer (it should be one paragraph that doesn't exceed 160 characters long)
2. Optimize Your Business Profile
Unlike other social platforms, Quora puts great emphasis on the information we include in our business profile. As such, we ought to include a business bio, credentials and highlights (this is where we include the services we offer), topics we know about, and a business tagline that will be included in every answer we post.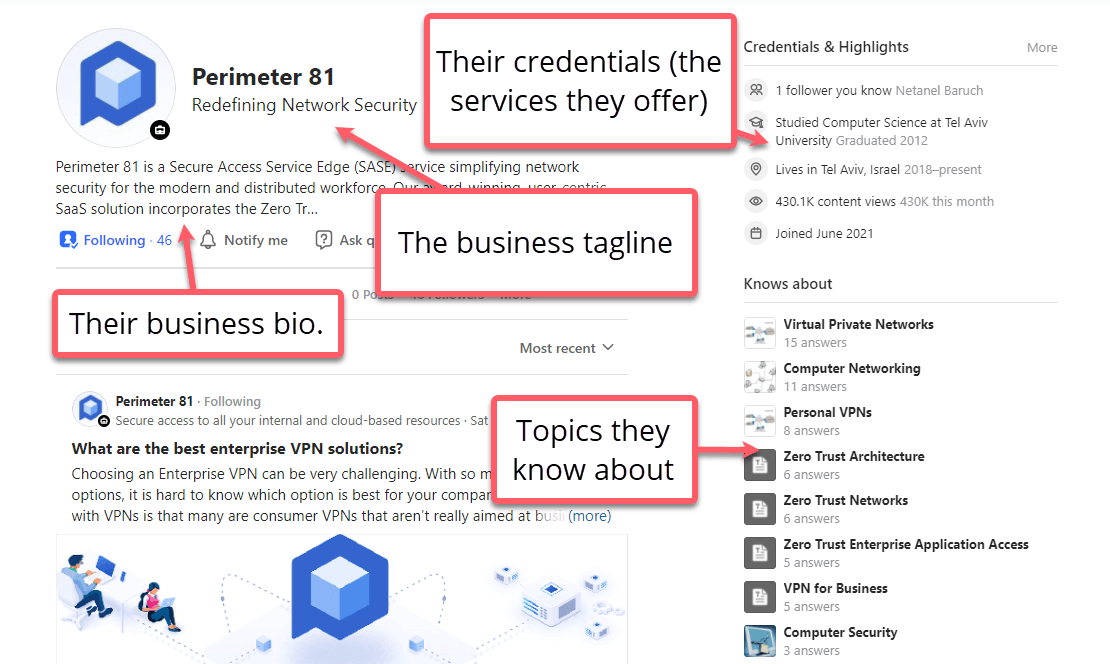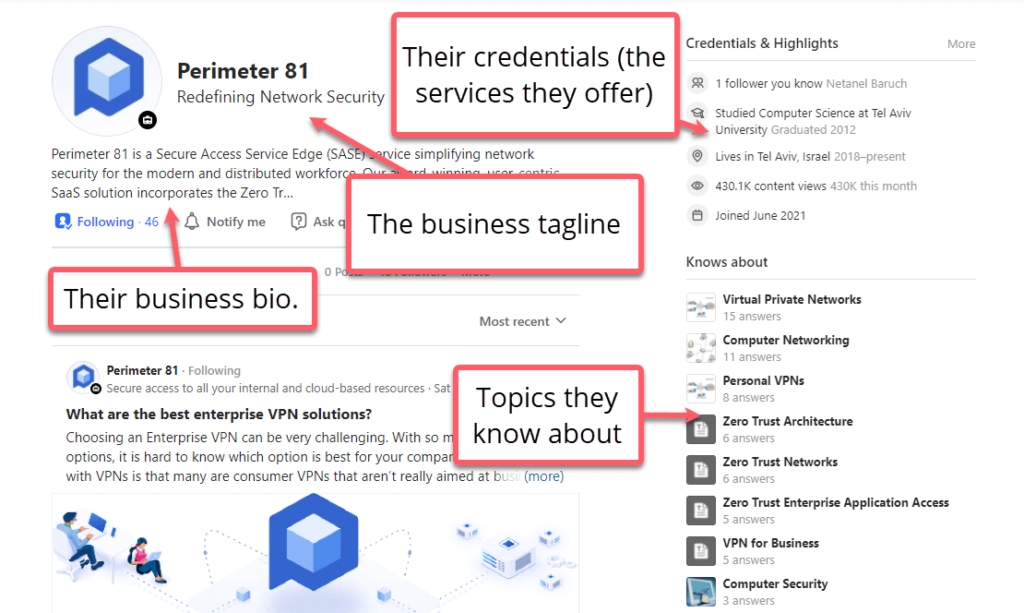 3. Choose Your Questions Wisely
On Quora, it's important to understand the intent of demand-driven questions as it relates to the buyer's journey. Many marketers split the journey into three distinct sections.
Top of the funnel (ToFu):

ToFu questions focus on brand awareness and site traffic. Their main focus is to grab people's attention. An example of a ToFu question would be, "What is media buying?".

Middle of the funnel (MoFu):

MoFu questions focus on lead generation and nurturing prospects. MoFu content aims to inform and educate users. An example of a MoFu question would be, "Who is the top mobile game development consulting company?".

Bottom of the funnel (BoFu):

BoFu questions focus on conversion to paid services and products. BoFu content is personalized and product-focused, product reviews and comparison questions are great examples. For instance, a BoFu question would be, "Which are the top explainer video production houses? Why do you say so?".
The goal of B2B Quora marketing is to focus on answering MoFu and BoFu questions to target and attract people who are interested in a specific product or service that helps them solve their problems.
We wrote a guide where we teach you how to find the best questions to answer on Quora, check it out, and get started now.
4. Promote Answers
Promoted Answers allow anyone with a Quora Ads account to extend the reach of their answers on Quora. Promoted Answers have all the same targeting options that are available for other ad formats on Quora, which means you can put your content right in front of the right people inexpensively. When a user clicks on the Promoted Answer ad unit, they can read the full answer.
Promoted Answers on Quora look pretty much the same as a regular Quora answer so the user engagement is high. The only difference is that Promoted Answers have a note at the top-left side that says, "Promoted by company name".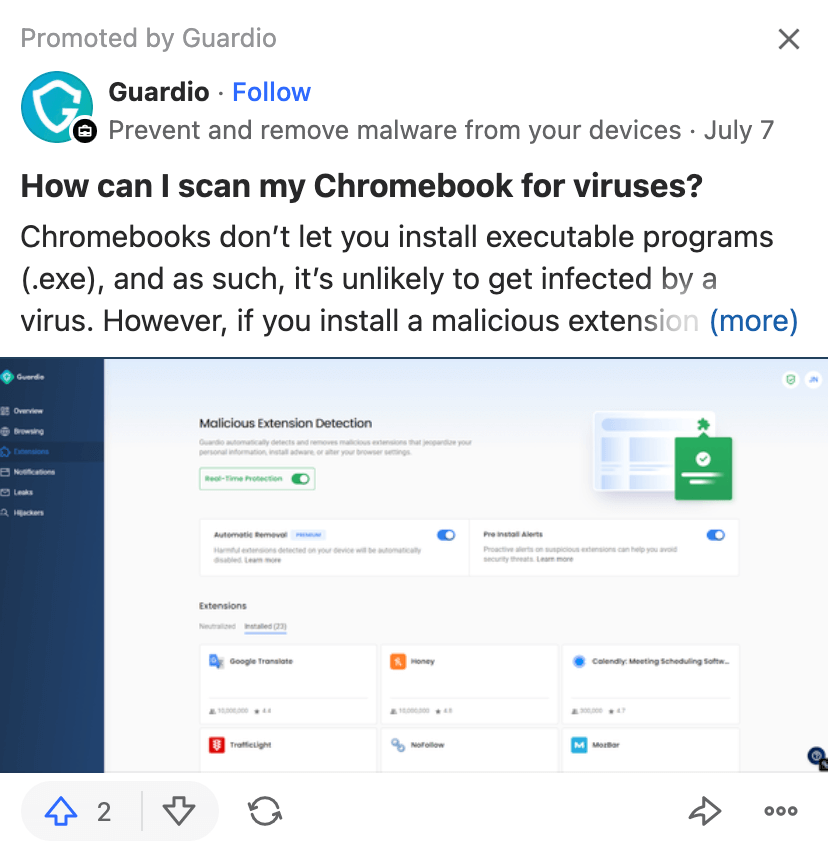 5. Retarget Quora users
There are different kinds of retargeting you can use of Quora, the most widely known is Website Retargeting, however, did you know that you can also retarget people who visited specific questions?
You can even go as far as retargeting people who visited questions around a topic in a specific timeframe.
Retargeting is the bread and butter of B2B marketing.
Combine retargeting with Quora's Lead Generation Forms and you'll have a high converting campaign.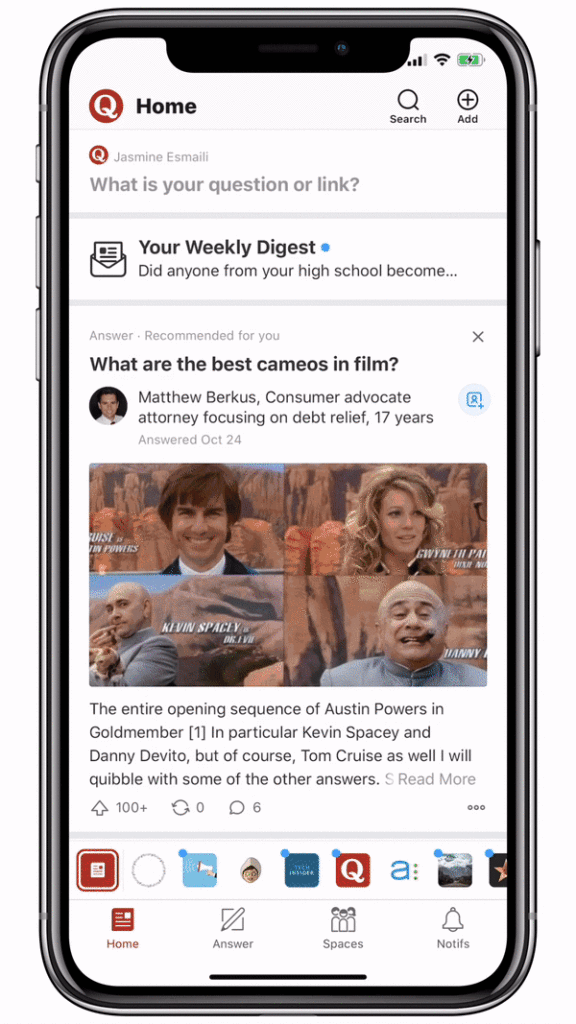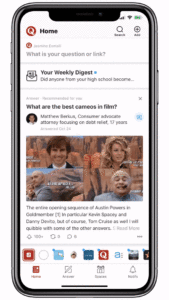 Summary
Quora is a great way to reach millions of people that are actively searching for reliable information about your company, products, competitors, and industry so it makes sense to get involved in the conversation.
When done correctly, Quora becomes a valuable asset for companies that continuously attracts, engages, and nurtures the right people.
If you want to learn more about how Quora can help your business generate leads, reach out to us and we'll show you how we can help.