How to find amazing marketing opportunities on Quora
People always ask me how to find good marketing opportunities on Quora. A lot of people are familiar with Q&A websites like Quora, but they never considered manipulating these platforms as marketing channels.
One of the most complicated aspects of Quora marketing is "what question should I answer?" With more than 3,000 questions published on Quora every day, marketers struggle to find the right opportunity, which like anything else, involves time and effort.
In this article, I will present,
An overview of marketing on Q&A websites like Quora
How 'Opportunity Ranking' is determined on Q-Stats
'Opportunity Ranking' case studies
Moving forward with Q-Stats
An overview of marketing on Q&A websites like Quora
The opportunity to do marketing on Q&A platforms like Quora is large and continues to grow. Quora sees about 500 million monthly views, and 77% of that traffic comes from Google search engines. People go through their days with many questions and look for short, understandable, and trustworthy answers. Companies should look at this significant traffic as a marketing asset to invest in.
There is a lot of opportunity in ranking highly for relevant keywords and questions on Quora. If a company responds to a highly viewed question with a valuable solution, a powerful SEO relationship begins between Quora and Google. Every month, the questions your company answered begins to rank higher on Google for the keywords used in the answer, which means increased website traffic and conversions.
Let's start with the basics of marketing on Quora. First, you need to find a question that contains value for your company. Here are a few critical factors you should look for when answering questions.
Relevant keywords. These keywords can be your company name, competitors, or something having to do with your product or service. Make sure the keyword(s) appear in the question itself.
Followers over answers. Once a relevant question is found, you should search for "how many followers" and the number of "answers" the question already got. You can see these metrics right on the Q-Stats extension. The reason followers are significant is because every time you answer a question, all the people who follow it will get a notification. While the number of answers is an indicator of relevancy, questions with a ton of answers usually equate to competitiveness.
Now that you understand the basics of finding potential leads on Quora, next, learn how Q-Stats instantly creates an 'Opportunity Ranking' for you on every question.
How 'Opportunity Ranking' is determined on Q-Stats
There are four factors that we are calculating: Monthly views, Answer amount, Followers, and Number of topics related to the question. The different weights of these factors are generated into an 'Opportunity Ranking' of 1-5 stars, which can be found on the Q-Stats extension.
Top priority factors
Monthly views. The monthly views number is an indicator of whether a question is still relevant, or trending towards forgotten. A higher number conveys that people are continuously interested in finding value about the topic the question surrounds. Because of this, Q-Stats highly regards monthly views into its ranking algorithm.
Number of answers. Most of the time (not always) – when you have a question that already has more than 100 answers – the opportunity for an impactful answer is low. A question with a high following but with fewer answers generally predicts a higher ranking. BUT – if you believe that your answer contains value that no other answer has – add your answer no matter the quantity.
Second priority factors
Followers. A follower is anybody who clicked the "follow" button on a Quora question. As mentioned, followers of a question will get a notification when a new answer is published. A question with more followers will play into a higher opportunity ranking.
Number of topics related to the question. Questions with more related topics is beneficial for opportunity ranking because it has a higher chance of showing up in other individuals' feeds. A customers Quora feed contains questions that they have followed, but also ones that Quora deems are related to their interests.
These are the 4 factors that Q-Stats considers when calculating an 'Opportunity Ranking' score on Quora. Of course, there are a few other algorithms and equations involved, but these four factors are the foundational perspectives.
How about some examples to further cement these ideas?
'Opportunity Ranking' case study
For this example, I'll take the company Asana. Asana is an application that helps teams stay organized with tasks and better manage their work (it's awesome – we use it at Q-Answers!)
Let's begin by considering Asana's target audience: Companies of any size that prioritize team collaboration, and require management of projects and tasks.
Asana can split their Quora marketing strategy into 3 main focuses, where they will both answer questions and ask them:
1. Pain point questions. These questions and answers would revolve around the targeted keywords surrounding Asana's core service: project management tool.
2. Questions about their brand. These questions would specifically speak to Asana as a brand: Working with Asana, how to use the different features, how to organize properly on the application, and all kinds of questions relating to people who want to explore Asana.
3. Competitors. All the questions relating to the direct competitors of Asana. This opens a funnel for potential customers to see an alternative solution with adding some additional brand awareness.
Here are some examples for each scenario listed above:
Here are some examples for each scenario listed above:
Pain point questions:
What is the best project management tool?
What is the best agile project management tool?
What makes a good project manager?
Questions about their brand:
What are great uses for Asana?
What is your review of Asana (product)?
What technologies is Asana built with?
Questions involving competitors:
How does Asana compare to Trello, and how are they similar and dissimilar?
How does Slack compare to Asana?
Is Smartsheet or Asana better for project management?
We have 3 targeted questions for each category.
Combined between the 9 questions, there are:
Over 36.3 million total views.
Over 1500 people would get immediately notified when a question is answered (plus millions of other views).
With the questions above in mind, let's focus on a question with a high opportunity ranking .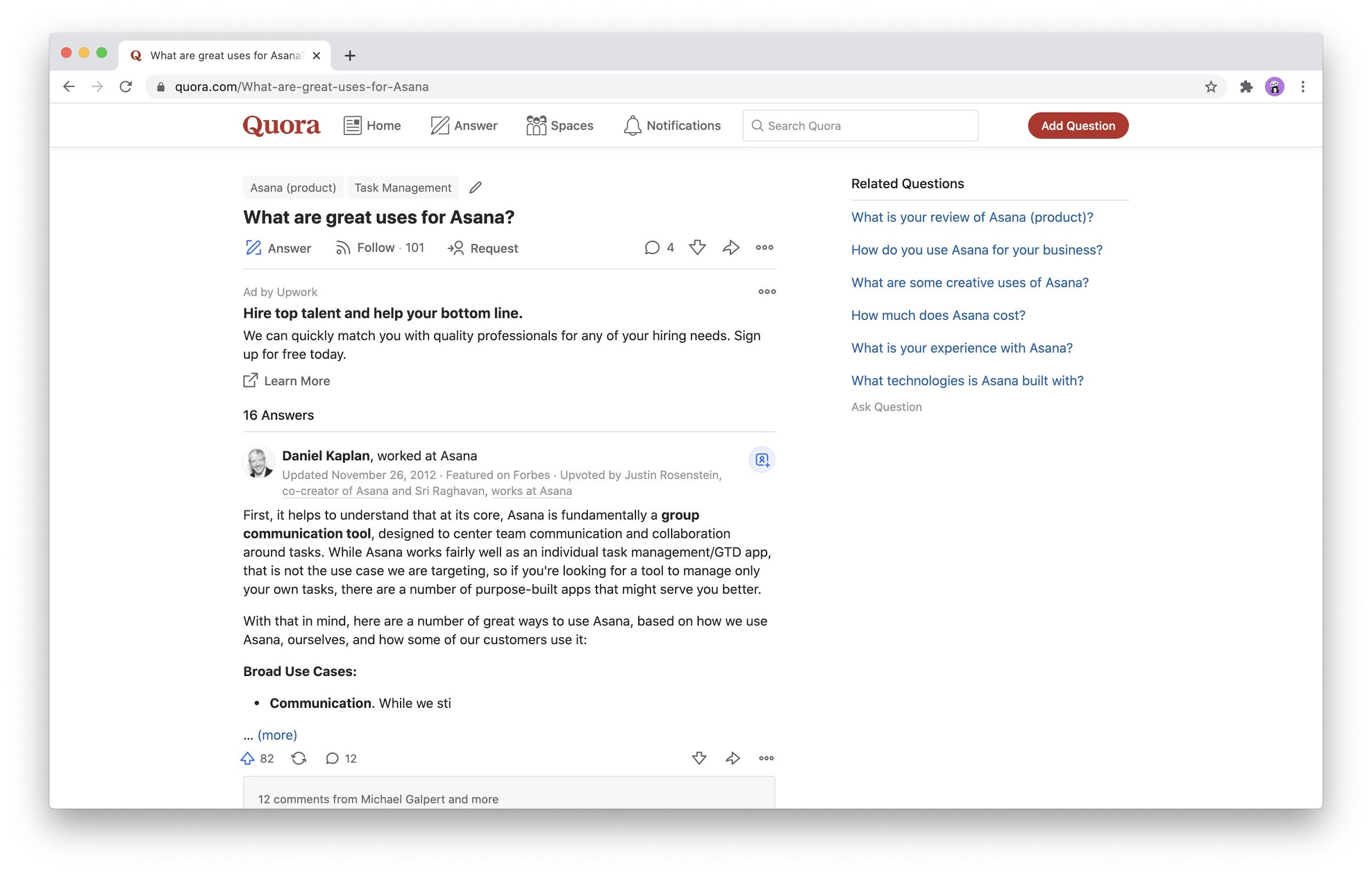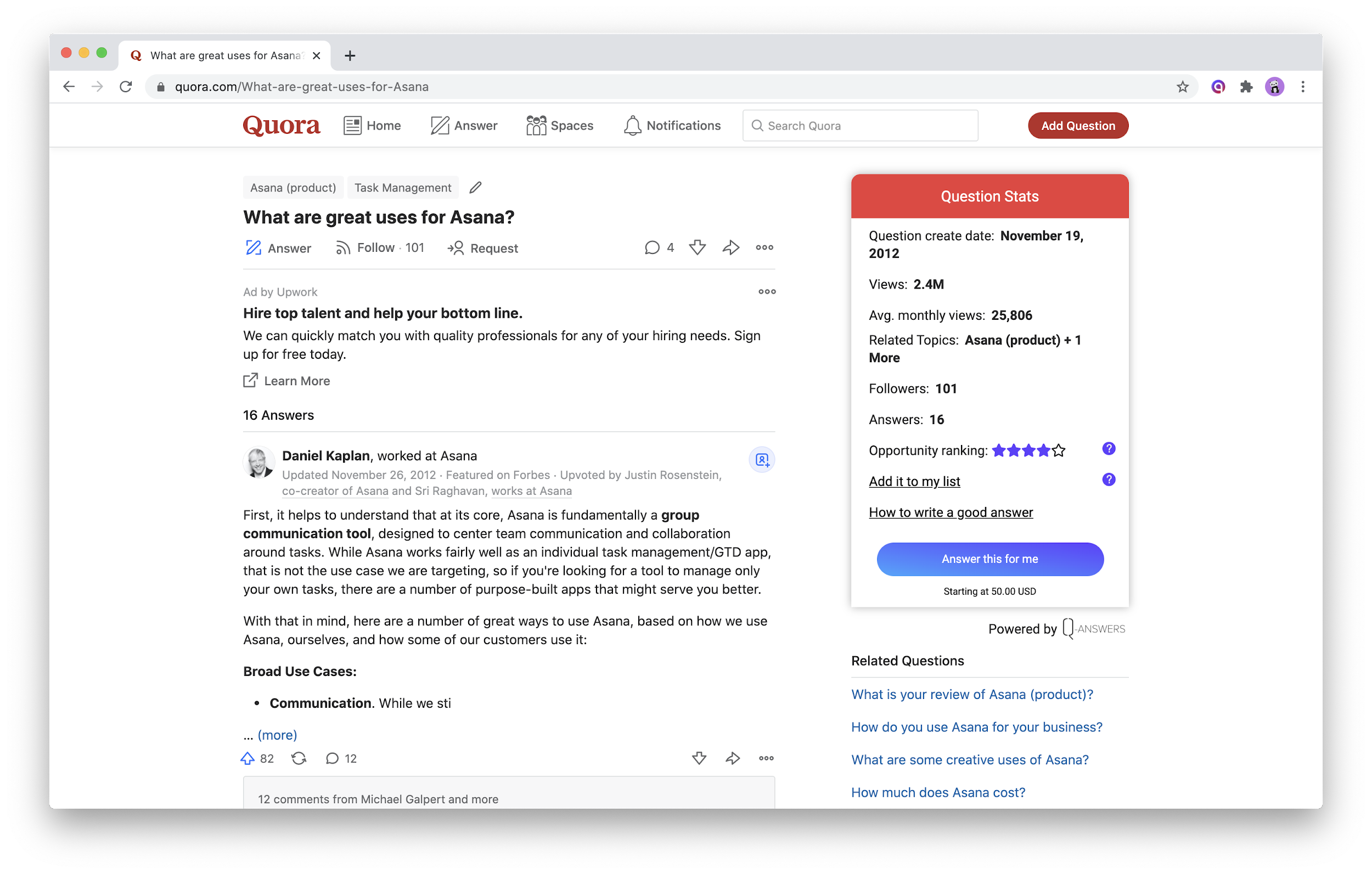 The opportunity ranking score is a 4
From Asana's perspective, this is a question to capitalize on. Here's why:
1. The question has 25,806 average monthly views. With additionally 2.4M total views, it's clear that there is an enormous continued interest for this question.
2. The question has 101 followers. That means once this question is answered, those 101 individuals will be immediately notified that Asana answered one of their questions.
3. There are only 16 answers so far. That means Asana has an excellent chance of bringing the most valuable answer to the question – competition is low.
The question also ranked very well through an SEO perspective. As you can see, the first Google result to the question, "What are great uses for Asana," comes directly from the page we discussed above on Quora.
Rankings will not always be perfect – and that's why it's important to understand the criteria involved with the Q-Stats computation. The Q-Stats machine is still learning, and we improve it every day.
Moving Forward with Q-Stats
It's important to mention that Q-Stats is a brand utility of Q-answers – a professional UGC agency that's focusing on Q&A websites like Quora.

Want to explore more about your market for FREE? We are happy to create a full report specifically about your company and its opportunity in Quora marketing. The report is part of our mission to increase the awareness of Quora marketing.
I'd love to hear if Q-Stats helped you identify opportunity for your business. If you have more scenarios to show as an example of a good or bad question opportunity, I'd love to include it in this article.