Imagine you are sitting down on your chair feeling excited, you just finished setting up your Quora account and are ready to start answering questions. You click on the search bar and type in your main keyword.
Lost of questions start popping up and a HUGE smile comes on your face.
You click the first result and type away your answer. You repeat the same process over and over until you finish.
You go to bed feeling satisfied because of all the work you just did, you feel the soft mattress under you that snuggles you, and after five minutes you sleep like a baby.
You wake up, turn on the computer, go to the kitchen, and prepare some coffee.
You open Quora to see your stats and your eyes open wide because of what you see…
Thousands of people have seen your answers and more keep coming. A massive grin appears on your face so you celebrate and go back to work to get more.
That's not what happens for most people. In fact, it's the minority…but that could be you.
If you follow the process I'm sharing with you below I'm sure you'll be able to get tons of exposure on Quora.
Why am I so certain?
Because we do it all the time.
Are you ready?
Let's start now.
Creating your Ahrefs account
The first thing you'll need to do is, get an Ahrefs account. They offer a 1-week trial version for only $7.00 USD. After the period expires you'll have to pay for the membership to keep access to the tool.
But don't worry because if you follow these steps, you'll be able to finish before your trial finishes and you won't have to pay for the full month.

Searching for the best pages on Quora
After you create your account and go through their setup process, click the option that says, "Site Explorer" on the top menu. Then click the search bar and type "quora.com".

After all the data appears, click the option that says, Top pages" on the left menu.
Removing pages you don't want to see
There are two filters we are going to use to narrow down on our search. "Volume" indicates the estimated number of visits a page is getting from Google, "Include" will remove the pages that don't fit specific criteria.
We recommend searching for questions that have a minimum of 100 monthly views.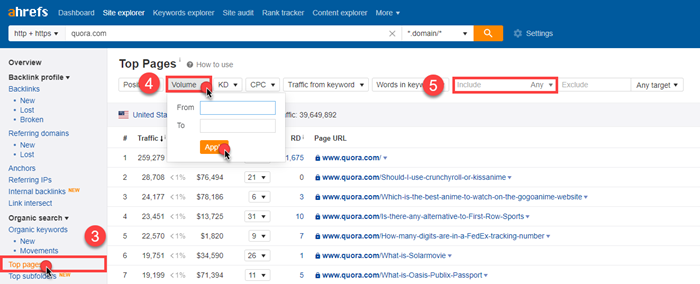 When using the Include filter, make sure to separate keywords with a comma (,). For instance, fitness, workout, leg work. And select "Any" to find pages that mention any of the keywords you typed.
After you finish your search, click "Export" to download a CSV (Excel) file.

Follow these steps to find the best questions on Quora and if you need help writing your answers, make sure to check the packages we offer. Our packages go from research, content creation, and advertising management.
If you have any questions about the blog post or our packages, write them in the comment section below.
Take care and have a wonderful day. 🙂